300 Rise of an Empire / 300 Początek imperium (2014) PL.480p.BRRip.XviD.AC3-sav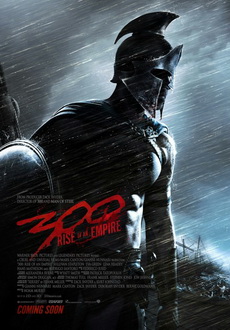 OPIS: "300: Rise of an Empire" to amerykański film dramatyczny z 2013 roku, nawiązujący do obrazu "300" z 2007 roku. Za reżyserię odpowiada Noam Murro, a za produkcję – Zack Snyder, reżyser pierwszego filmu. Oprócz komiksowego pierwowzoru Frank Miller nie będzie miał nic wspólnego z tą częścią filmu.
Film "300: Rise of an Empire" przedstawia przyczyny wybuchu wojen perskich oraz skupia się na bitwach stoczonych pod Maratonem i Artemizjonem. Twórcy przybliżają widzom postaci Kserksesa (Rodrigo Santoro) oraz greckiego dowódcy Temistoklesa (Sullivan Stapleton).
Oparty na najnowszej powieści graficznej Franka Millera "Xerxes", opowiedziany w zachwycającym wizualnym stylu przeboju "300″, kolejny rozdział sagi przenosi akcję na nowe, morskie pole walki. Grecki przywódca Temistokles usiłuje zjednoczyć Grecję przez wprowadzenie broni, która zmieni bieg wojny. W filmie "300: Rise of an Empire", Temistokles zostaje wystawiony do walki z olbrzymią inwazją wojsk perskich, na których czele stoi człowiek-bóstwo, Kserkses oraz Artemida (Eva Green), mściwa przywódczyni perskiej marynarki.
W filmie "300: Rise of an Empire" w rolach głównych wystąpili: Sullivan Stapleton jako Temistokles, Eva Green – Artemida, Rodrigo Santoro – król Kserkses, Callan Mulvey – Scyllias, David Wenham – Dilios, Jack O'Connell – Calisto, Hans Matheson – Aeskylos, Lena Headey – królowa Gorgo.
PLOT: Based on Frank Miller's latest graphic novel Xerxes and told in the breathtaking visual style of the blockbuster "300," this new chapter of the epic saga takes the action to a fresh battlefield-on the sea-as Greek general Themistokles (Sullivan Stapleton) attempts to unite all of Greece by leading the charge that will change the course of the war. "300: Rise of an Empire" pits Themistokles against the massive invading Persian forces led by mortal-turned-god Xerxes (Rodrigo Santoro), and Artemisia (Eva Green), vengeful commander of the Persian navy.
Tytuł…: 300 Rise of an Empire / 300 Początek imperium
Ocena…: IMDB – 7.4/10 (8604), Filmweb – 6.9/10 (920)
Produkcja..: USA
Gatunek..: Action | Drama | War
Czas trwania..: 78 min.
Premiera…: 07.03.2014 – Polska, 05.03.2014 – Świat
Reżyseria..: Noam Murro
Scenariusz…: Zack Snyder, Kurt Johnstad
Aktorzy…: Sullivan Stapleton, Eva Green, Lena Headey, Hans Matheson
300 Rise of an Empire / 300 Początek imperium (2014) PL.480p.BRRip.XviD.AC3-sav 
300 Rise of an Empire / 300 Początek imperium (2014) PL.BRRip.XviD-BiDA 
300 Rise of an Empire / 300 Początek imperium (2014) BDRip x264-COCAIN
300 Rise of an Empire / 300 Początek imperium (2014) HDRip XviD AC3-EVO
300 Rise of an Empire 2014 HDRip XviD-SaM
http://justpaste.it/300-2014-hdrip-SaM
300 Rise of an Empire / 300 Początek imperium (2014) ENG BLURRED SUBS WEBRIP Xvid AC3-MiLLENiUM
http://justpaste.it/300poczatek-imperiumengsub-mille
300 Rise Of An Empire 2014 WEBRip x264 AC3-FooKaS
300 Rise Of An Empire Webrip XviD Feel-Free
300 Rise Of An Empire 2014 CAM NEWSOURCE XVID AC3-EVE
300: Rise of an Empire (2014) CAM.x264.AC3-TiTAN
300 Rise of an Empire / 300 Początek imperium 2014 CAM x264 AC3-cOnE-Heads-rg [8 mar 2014]